Learn awesome facts, tips & tricks to improve your experience with Automation Workshop!
Tasks
Automation Workshop supports unlimited number of automated Tasks (robots).
Automation Workshop easily handles 10,000+ Tasks without any impact on performance.
Memory usage per Task is around 20-50KB.
Tasks are executed extremely fast—with millisecond precision.
Execute any Task with any user credentials—currently logged in, SYSTEM or specified.
Queue Manager · monitor past and ongoing Tasks in real-time.
Task Finder · quickly locate Tasks based on their Triggers, Actions and execution credentials.
Triggers & Actions
Automation Workshop supports unlimited number of Triggers and Actions.
Triggers · define when to run a Task.
Actions · define what a Task does.
All file & folder Actions support Unicode filenames and 30,000+ characters long path.
Variable Wizard · basics of creating Trigger-Action and Action-Action connections.
File watchers
Email
Send email Action supports an unlimited number of attachments, via SSL or TLS.
Authenticate with PLAIN, LOGIN, NTLM, CRAM-MD5 methofds or use AUTO detect—intelligently detect the authentication method and seamlessly initiates the most secure communication session possible.
Automatically send an email reports on Task successful or failed completion.
Variables
Virtually unlimited length of variable names.
Human-readable variable names that can contain spaces and Unicode characters.
Access both current and previous variable values.
Service
Once set up, Automation Workshop runs fully unattended in background as Windows Service, without requiring user to log in. Designed with energy efficiency in mind and is perfectly suitable for all platforms from servers to laptops.
Service overview · Automation Workshop Service that executes automated operations.
Service options · configure the Service, the core of automation operations.
Log Manager · provides detailed operation reports with filtering and sorting options.
Notification area icon · interactive status in Taskbar.
Backup
UI
Quick tutorials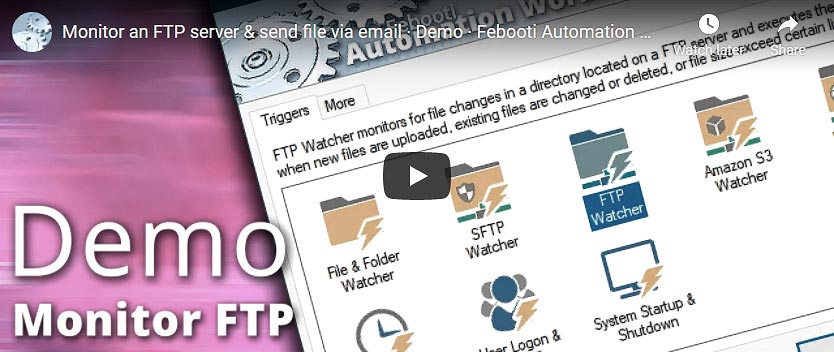 Automate now!
Just ask…
If you have any questions, please do not hesitate to contact our support team.