Welcome to the video section of our help & support pages. We've crafted video demos and tutorials to teach you to use the Automation Workshop tools and features. We'll keep adding more, so check back often.
Demo…
Get inspired by these Automation Workshop demo videos and find out how you can start automating Windows tasks today!
Video of the Day…
A daily video highlight—Advanced file renaming.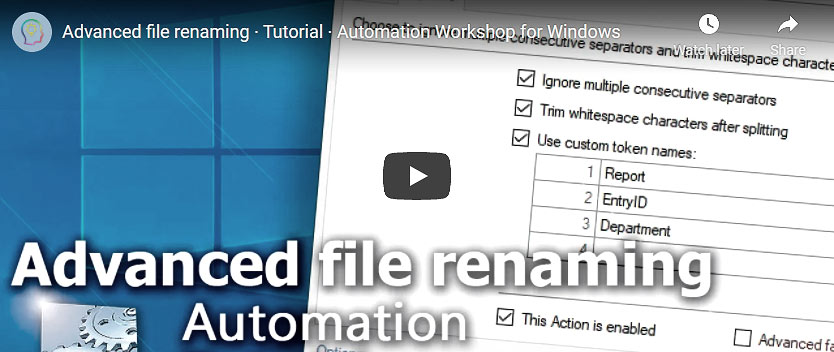 Audio language: English.
Subtitles: English.Length: 12:45
Tutorials…
Detailed step-by-step video guides that are easy to follow and right to-the-point. From the beginning to end, the steps for each video tutorial is laid out in a simple, easy-to-follow manner. Enjoy!
Shorts…
Short videos to quickly introduce and explain basic concepts of the Automation Workshop app. These videos usually cover one narrow topic.
The intuitive interface with Task creation and configuration Wizards will lead you through the Task design process without requiring scripting skills or preliminary training. It is easy to automate anything and anywhere with this no-code automation platform.
Universally available
Advanced job scheduler—Automation Workshop works flawlessly on all modern 32-bit and 64-bit Microsoft Windows versions: Windows 8 & 8.1 · Windows 10 · Windows 11 · Server 2012 & 2012 R2 · Server 2016 · Server 2019 · Server 2022