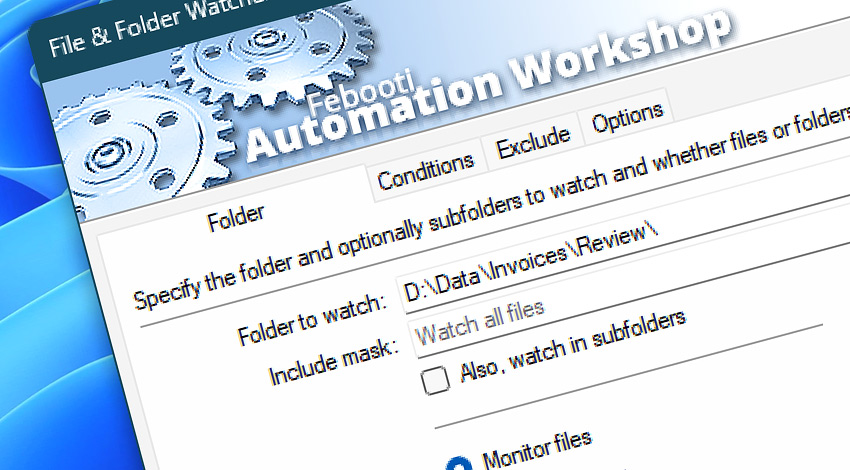 Automation Workshop includes File & Folder Watcher, that monitors for file and folder changes in specified location. Both local and network paths are supported. Equiped with file mask and attribute filter criteria, it gives user very precise control over what exactly is being monitored.
Features & highlights
Continuously monitor folders on a local Windows drives and network-accessible Windows, Linux, Novell or Samba shares, and track any file changes as soon as directory content is modified.
Watch file system for new, modified and deleted files or folders.
Watch local and network folders for created, changed and removed files, with wildcard include and exclude filters.
Local folder and network drive monitoring with UNC path names and full Unicode file name support.
Real time local and remote file system tracking for directory changes and additions whether user is logged in or not.
Background directory watcher monitors for files using Windows service, that runs on workstations and servers in unattended mode.
Usage examples
Documentation
More
Tutorials
Discover
Automation Workshop includes many more awesome Triggers and numerous Actions to aid you automate any repetitive computer or business task by providing state-of-the-art GUI tools.
Automate now!
Questions?
If you have any questions, please do not hesitate to contact our support team.
1,369,502
We're growing fast. Thank you!
Video · Monitor an FTP server & send invoice via email
Best
in class!
Recent news
May 4, 2020
Command Line Email v7.0 introduces new TLS commands. Improved console output and debugging experience. More improvements.
April 16, 2020
Automation Workshop v4.1.1 ensures even more compatibility with various Windows Domain and network configurations.
April 2, 2020
Automation Workshop v4.1.0 introduces Action favorites and extended view mode. Many minor UX and performance improvements.
Automation Workshop is an awesome piece of software. It will save us thousands of man hours this year alone!—Chuck W.
Last updated: May 4, 2020
Sep 29, 2020 · 10:37

0.005
·
0.000

0.3 · 3.8