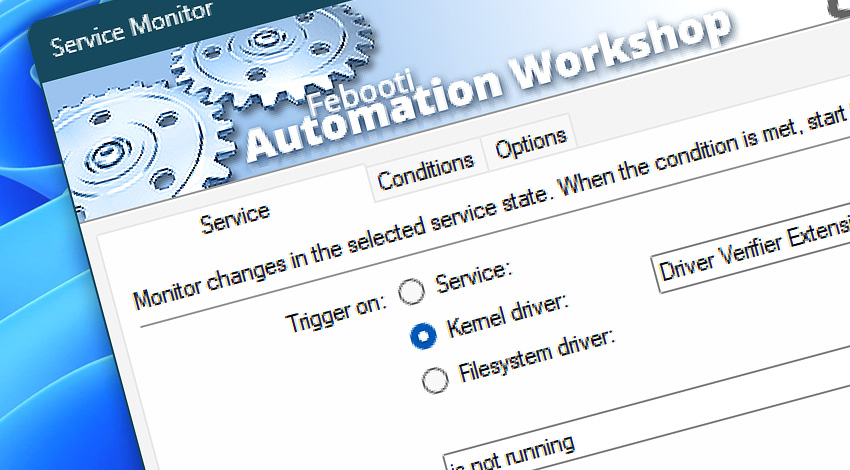 Efficiently monitor Windows services (including kernel and filesystem drivers) and instantly trigger user-defined workflows (set of Actions) when the service status changes. Actions enables you to react to the current service status (e.g., running, paused, installed) or "just changed" status, ensuring smooth and continuous operation of your system.
The Service Monitor Trigger enables you to create automated workflows (aka Tasks, jobs, flows, or robots) that seamlessly work in an unattended mode. For example, if a service is found to be not running, the Task could automatically start the service, or if the service is found to be running but not responding, the Task could automatically restart the service.
Optimize the way you handle and manage your IT infrastructure by automating routine tasks such as service monitoring and maintenance, to reduce the workload of IT staff and streamline overall IT management.
Features & highlights
Reduce downtime by ensuring that business critical Windows services are never stopped—proactively monitor the status of services to quickly identify and resolve issues that might cause downtime—ensuring minimal disruption to your business operations.
Boost your infrastructure uptime and reliability by monitoring the status of key services such as databases, CRMs, or custom programs. You can always be sure that your key operational services are running 24/7 and available to users, and take action to instantly resolve any issues that arise.
By monitoring the status of services and keeping track of changes to their status, you can effortlessly maintain an audit trail and ensure compliance with regulatory requirements.
Watch the status of services in real-time and run predefined Actions when an error is detected. Automation Workshop enables you to quickly identify and resolve problems that would otherwise go unnoticed, such as a service that has stopped running or is not responding.
Usage examples
Organizations can automate routine maintenance tasks and reduce the need for manual intervention by intelligently pausing/stopping and then restarting a service while unattended server maintenance is performed.
Set up audial or email alerts by monitoring the status of a service and notify your users of changes to the status of the service, such as it just stopped, just started, just restarted, so they can take immediate action.
By monitoring the status of services, you can automatically gather information about the service and its current state, which can be used to diagnose and resolve problems more quickly (automating troubleshooting).
Automate service provisioning by uninstalling old versions and installing new releases. Monitor services to detect their maintenance or backup procedure, and provision new versions during downtime.
Documentation
Service · Select a service or driver and its monitored status.
Conditions · Set up post-boot and retriggering delays.
Options · Adjust the delay and number of occurrences to start a workflow.
Interconnect
Discover
Automation Workshop includes many more awesome Triggers and numerous Actions to aid you to automate any repetitive computer or business task by providing state-of-the-art GUI tools.
Need assistance?
If you have any questions, please do not hesitate to contact our support team.