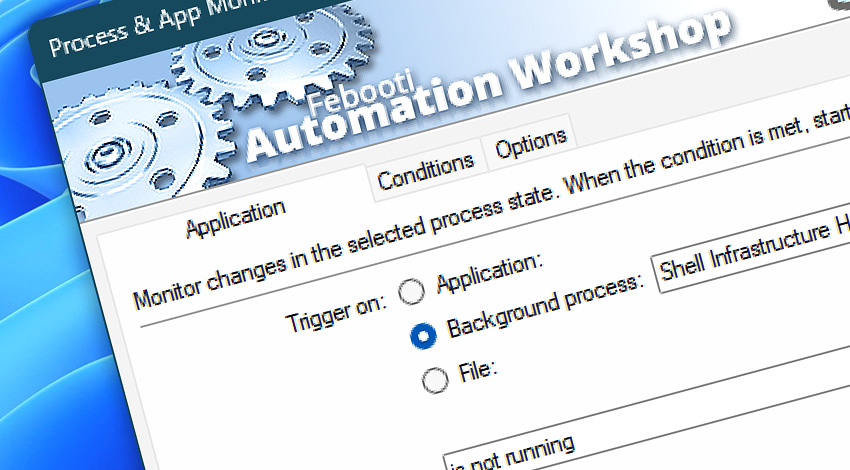 Automation Workshop is a no-code solution that allows you to create automated workflows to monitor your Windows applications and processes without the need to write any code. This makes it easy for anyone to set up and maintain monitoring systems, regardless of their technical expertise.
The Process & App Monitor Trigger allows you to keep an eye on the performance and health of your applications and processes in real-time. Using a wide variety of Actions, your workflow can react to issues automatically to ensure that critical apps are running smoothly.
Features & highlights
Monitor processes in real-time and restart them if a problem arises.
The Process & App Monitor Trigger, together with the App Information Action, enables the creation of workflows for monitoring application availability.
Automated app & process monitoring for large IT infrastructures using visual UI.
An intuitive, user-friendly workflow creation wizard featuring a simple visual interface for selecting any application, background process, or custom executable. With extended process information, such as CPU and memory usage, readily available at a glance, creating workflows has never been easier.
Make sure that your essential applications and processes are running smoothly and uninterrupted.
Works on Windows Servers and Workstations.
Usage examples
Documentation
Application · Choose an app, background process, or custom executable.
Conditions · Select a delay on system startup and recurrence interval.
Options · Configure triggering delay and repetition for a workflow.
Interconnect
Discover
Automation Workshop includes many more awesome Triggers and numerous Actions to aid you to automate any repetitive computer or business task by providing state-of-the-art GUI tools.
Need a helping hand?
If you have any questions, please do not hesitate to contact our support team.