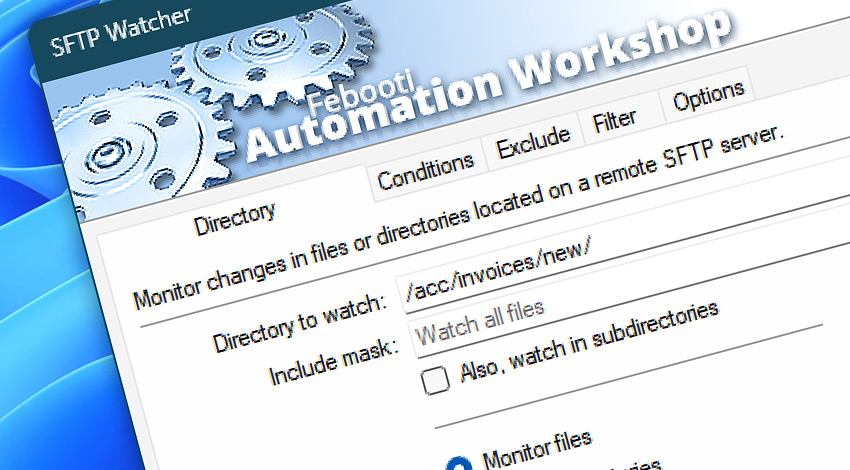 Automation Workshop includes SFTP Watcher, that monitors for file changes in a remote directory on a SSH File Transfer Protocol server and can launch the Task when a file or folder is created, modified, deleted or reaches certain limits in file size or number. File mask filter allows to monitor for selected file types or files with specific names.
Features & highlights
Exceptional performance even on an unreliable network.
Watch files and folders for changes on a remote SFTP server.
Monitor when new files are created and existing files modified or deleted.
Detect when the total number of files in a remote directory reaches or exceeds a specific number.
Monitor for files that are larger than defined limits.
Supports SFTP SSH and SCP SSH connection types.
Watch for specific file types.
Documentation
More
Discover
Automation Workshop includes many more awesome Triggers and numerous Actions to aid you automate any repetitive computer or business task by providing state-of-the-art GUI tools.
Still have a question?
If you have any questions, please do not hesitate to contact our support team.
1,266,901
We're growing fast. Thank you!
Admins
best choice!
Recent news
January 7, 2020
Automation Workshop v4.0.0 introduces SFTP, FTP, Amazon S3 and WebDAV watchers. 15 new Cloud & FTP Actions. Entirely new and redesigned user experience across entire product.
March 14, 2019
Automation Workshop v3.2.0 ensure smooth For each Action execution. Also, improves Task opening speed.
January 3, 2019
Automation Workshop v3.1.0 with Windows Server 2019 support and multiple UX and UI improvements.
Automation Workshop is an awesome piece of software—love the intuitiveness, flexibility and simplicity.—Howard C.
Last updated: January 7, 2020
Feb 26, 2020 · 17:03

0.006
·
0.000

0.3 · 3.9