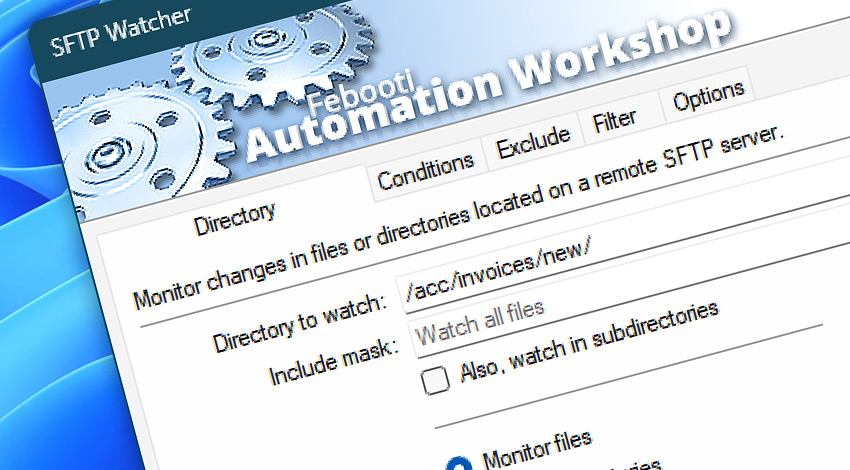 Automation Workshop includes SFTP Watcher that works with FTP servers using SFTP protocol on port 22. It also supports SCP file transfers, making it compatible with most of Linux, Unix, and BSD systems. For FTPS and FTPES protocol, use FTP Watcher Trigger.
SFTP Watcher monitors a remote directory on a server for file changes and it can launch a Task when a file or folder is created, modified, or deleted. The Trigger uses polling mechanism, that can be tuned to high frequency polling, to achieve almost a real-time file monitoring performance from the remote location.
Optionally, the SFTP watcher Trigger can scan directories for files to reach certain limits in file size, or number of files. File mask filter allows to monitor for selected file types or files with specific names, such as Word documents or .pdf files. On most Linux compatible systems, it allows filtering files by their owner and group, as well as, by filesystem permissions.
Features & highlights
Exceptional performance even on an unreliable network.
Watch files and folders for changes on a remote SFTP server.
Watch when new files are created, or existing files are modified.
Trigger when files get deleted or folders get removed.
Filter monitored files by Linux file owner or group, as well as by Linux filesystem permissions. Supports SFTP SSH and SCP SSH connection types.
Login using username and password, or SSH Private key.
Monitor for files that are larger than defined size in bytes, KB, or MB.
Watch for file types, such as, .docx, .pdf, .xls, or .jpg.
Detect when the total number of files in a remote directory reaches or exceeds a specific number.
Usage examples
Documentation
More
Discover
Automation Workshop includes many more awesome Triggers and numerous Actions to aid you automate any repetitive computer or business task by providing state-of-the-art GUI tools.
Automate now!
Still have a question?
If you have any questions, please do not hesitate to contact our support team.
1,383,688
We're growing fast. Thank you!
Video · Monitor an FTP server & send invoice via email
Admins
best choice!
Recent news
May 4, 2020
Command Line Email v7.0 introduces new TLS commands. Improved console output and debugging experience. More improvements.
April 16, 2020
Automation Workshop v4.1.1 ensures even more compatibility with various Windows Domain and network configurations.
April 2, 2020
Automation Workshop v4.1.0 introduces Action favorites and extended view mode. Many minor UX and performance improvements.
It's a very nice program you have. Now I will try it out a bit more, but I am already quite sure that it is the right program for us.—Soren H.
Last updated: May 4, 2020
Oct 29, 2020 · 06:21

0.005
·
0.000

0.3 · 3.8