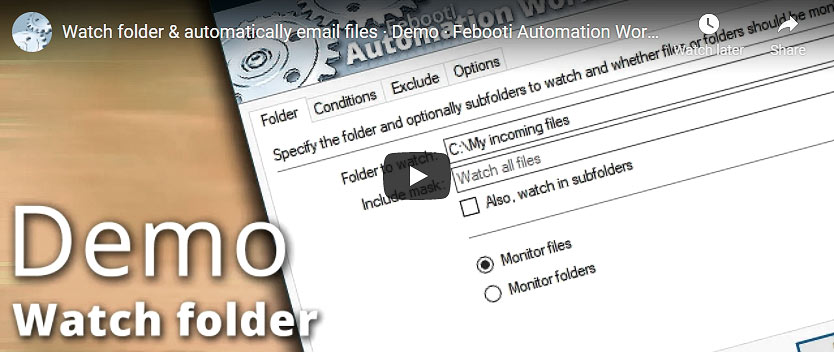 Automation Workshop monitors files and folders on local & network or remote servers like Amazon S3 and SFTP, and executes Actions when files or folders are created, modified or deleted according to defined conditions · Getting started · See more Automation videos
Let's debug… the codes
Automation Workshop is a versatile tool that can handle complex automation scenarios including launching external apps therefore advanced error handling and debug capability is an essential part of process automation. Some Run Actions may complete with errorlevels or exit codes…
…that indicate the termination status of executed Command or Application.
Exit codes
Program exit codes allow determining the specific reason for command's or application's termination. Although Automation Workshop shows codes in decimal format, they are also referred to as hexadecimal or negative decimal values.
Code 0
Program successfully completed.
Code 1
Incorrect function.
Indicates that Action has attempted to execute non-recognized command in Windows command prompt cmd.exe.
Code 2
The system cannot find the file specified.
Indicates that the file can not be found in specified location.
Code 3
The system cannot find the path specified.
Indicates that the specified path can not be found.
Code 5
Access is denied.
Indicates that user has no access right to specified resource.
Code 9009
0x2331 · 2331
Program is not recognized as an internal or external command, operable program or batch file.
Indicates that command, application name or path has been misspelled when configuring the Action—Run CMD Command or Start App.
Code 3221225477
-1073741819 · 0xC0000005 · C0000005
Access violation.
Indicates that the executed program has terminated abnormally or crashed.
Code 3221225495
-1073741801 · 0xC0000017 · C0000017
Not enough virtual memory is available.
Indicates that Windows has run out of memory.
Code 3221225786
-1073741510 · 0xC000013A · C000013A
The application terminated as a result of a CTRL+C.
Indicates that the application has been terminated either by user's keyboard input CTRL+C or CTRL+Break or closing command prompt window.
Code 3221225794
-1073741502 · 0xC0000142 · C0000142
The application failed to initialize properly.
Indicates that the application has been launched on a Desktop to which current user has no access rights. Another possible cause is that either gdi32.dll or user32.dll has failed to initialize.
Code 3221226505
-1073740791 · 0xC0000409 · C0000409
Stack buffer overflow / overrun.
Error can indicate a bug in the executed software that causes stack overflow, leading to abnormal termination of the software.
Code 3221225725
-1073741571 · 0xC00000FD · C00000FD
Stack overflow / exhaustion.
Error can indicate a bug in the executed software that causes stack overflow, leading to abnormal termination of the software.
Code 3762507597
-532459699 · 0xE0434F4D · E0434F4D
Unhandled exception in .NET application.
More details may be available in Windows Event log.
Help more?
For some error codes, Windows may provide a more friendly error message. NET HELPMSG displays information about Windows network messages (such as errors, warnings, and alerts). When you type NET HELPMSG and the error code (for example, net helpmsg 2182), Windows tells you more about the error code and may suggest actions to solve the issue.
net helpmsg 8

Not enough memory resources are available to process this command.
This will only work for Windows API Win32 error codes that originate from Microsoft Windows. If net help does not return a valid result, it can mean that the problem originates in external processes such as executed application or command syntax.

More Run…
More Ways…
Discover
Automation Workshop includes many more awesome Triggers and numerous Actions to aid you automate any repetitive computer or business task by providing state-of-the-art GUI tools.
Automate now!
Just ask…
If you have any questions, please do not hesitate to contact our support team.