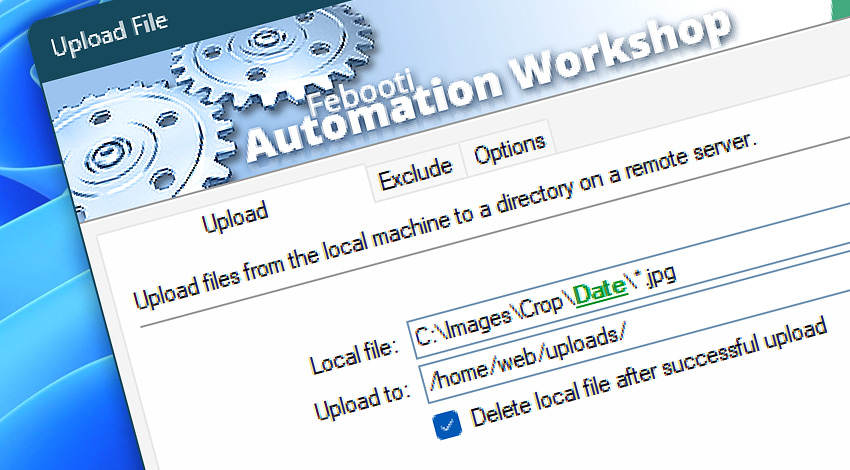 Automation Workshop includes Upload file Action that can upload one or multiple files from the local machine to a remote server.
Features & highlights
Supports the latest security standards for SSH connections used by SFTP, as well as the industry standard security for SSL and TLS connections used by FTPS, WebDAV and Amazon S3 web services.
Report overall upload speed and progress in realtime.
Upload one or multiple files to a remote directory.
Upload folder contents including subfolders and files.
Supports limiting maximum upload speed.
Set the file and folder permissions that will be applied during upload.
Keep original file time and date or change to current during upload.
Usage examples
Documentation
Upload · choose files to upload to remote server.
Options · limit transfer speed, choose transfer mode, set file permissions.
More
Tutorial
Discover
Automation Workshop includes many more awesome Triggers and numerous Actions to aid you automate any repetitive computer or business task by providing state-of-the-art GUI tools.
Automate now!
Questions?
If you have any questions, please do not hesitate to contact our support team.
1,368,799
We're growing fast. Thank you!
Video · Monitor an FTP server & send invoice via email
Your PC automated!
Recent news
May 4, 2020
Command Line Email v7.0 introduces new TLS commands. Improved console output and debugging experience. More improvements.
April 16, 2020
Automation Workshop v4.1.1 ensures even more compatibility with various Windows Domain and network configurations.
April 2, 2020
Automation Workshop v4.1.0 introduces Action favorites and extended view mode. Many minor UX and performance improvements.
Been using Automation Workshop for a while now and find it indispensable. Job well done!—Bob G.
Last updated: May 4, 2020
Sep 27, 2020 · 23:09

0.005
·
0.000

0.3 · 3.8