Automation Workshop includes the Synchronize Directories Action, a powerful tool for maintaining exact copies of data between local folders and remote directories. When multiple Synchronize Directories are combined, data can be kept in sync across multiple computers.
The Synchronize Directories Action allows to propagate file and folder changes from local machine to remote server (upload), from remote server to local machine (download) or both directions (bidirectional synchronize).
Features & highlights
Sync process can be launched with built-in Task Scheduler or by monitoring a local folder with File & folder Watcher, or with any Remote Filesystem Watcher.
Synchronize data between local machine (be it server, desktop PC, laptop, mapped network drives) and remote FTP, SFTP, Amazon S3, and WebDAV servers.
Synchronize the whole structure of folders, subfolders and their contents.
Maintain exact data copy among multiple sources.
One-way or Two-way data synchronization.
Options to synchronize new files, modified files and deleted files. Modified file synchronization is based file date, size or both.
Set maximum transfer speed and choose transfer mode.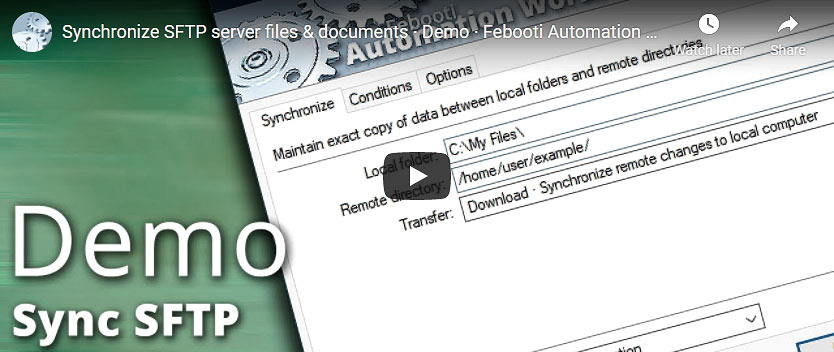 Documentation
Synchronize · Synchronize local folder with a remote directory.
Conditions · Choose to synchronize new files, deleted files and modified files.
Options · Set transfer mode, limit transfer speed.
More
Tutorials
Discover
Automation Workshop includes many more awesome Triggers and numerous Actions to aid you automate any repetitive computer or business task by providing state-of-the-art GUI tools.
Automate now!
Assistance is here…
If you have any questions, please do not hesitate to contact our support team.