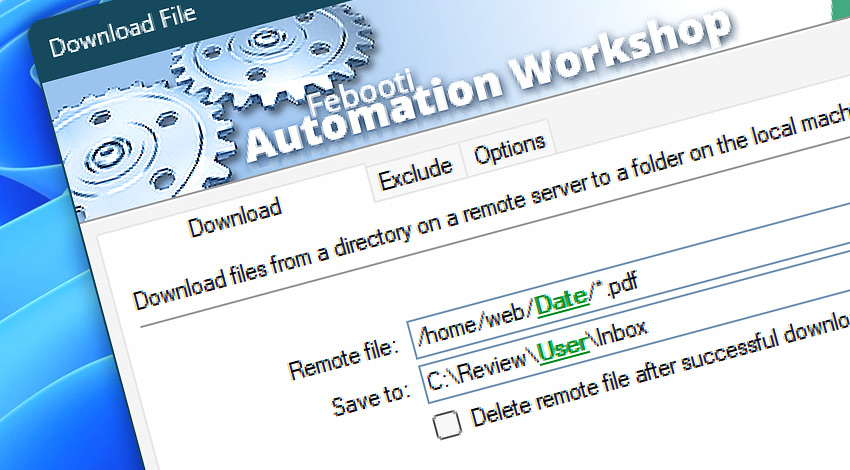 Automation Workshop includes Download file Action that can download one or multiple files from a remote server to the local machine.
Features & highlights
Can be used together with any remote server watcher trigger to download the file automatically as it appears on the remote server.
Report overall download speed and progress in realtime.
Download one or multiple files from a remote server.
Download folder contents including subfolders and files.
Supports limiting maximum download speed.
Keep original file time and date or change to current during download.
Usage examples
Documentation
Download · choose files to download from remote server.
Options · limit transfer speed, choose transfer mode, preserve file date and time.
More
Tutorial
Discover
Automation Workshop includes many more awesome Triggers and numerous Actions to aid you automate any repetitive computer or business task by providing state-of-the-art GUI tools.
Automate now!
Need a helping hand?
If you have any questions, please do not hesitate to contact our support team.
1,282,546
We're growing fast. Thank you!
Video · Monitor an FTP server & send invoice via email
Best
of the best!
Recent news
January 7, 2020
Automation Workshop v4.0.0 introduces SFTP, FTP, Amazon S3 and WebDAV watchers. 15 new Cloud & FTP Actions. Entirely new and redesigned user experience across entire product.
March 14, 2019
Automation Workshop v3.2.0 ensure smooth For each Action execution. Also, improves Task opening speed.
January 3, 2019
Automation Workshop v3.1.0 with Windows Server 2019 support and multiple UX and UI improvements.
Automation Workshop has allowed me to move towards the goal of a completely automated computer activities. Enjoy the life!—Frank M.
Last updated: April 2, 2020
Mar 30, 2020 · 15:23

0.005
·
0.000

0.3 · 3.9