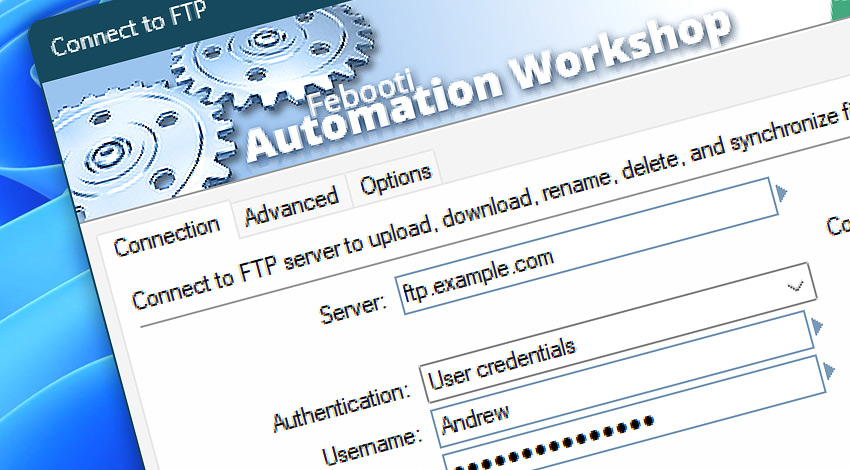 Automation Workshop includes Connect to FTP Action that establishes connection between local machine and a remote FTP server.
The FTP (File Transfer Protocol) connection is then used to monitor for file or directory changes or to perform Cloud and FTP Actions that upload, download, synchronize, list, move, rename, delete or perform other operations with files and folders.
Features & highlights
Supports the most recent TLS and SSL standards, to securely connect to FTP servers and Upload, Download files, or Synchronize directories.
Make either passive or active connection to FTP servers.
Supports Implicit FTP-SSL and Explicit FTPES protocols.
Supports both unencrypted FTP and encrypted FTPS connections.
Supports authenticating with both user credentials and client certificates.
Validates server based on any fingerprint, CA trusted certificates or specific certificate fingerprints.
Custom connection options allow using specific parameters for connecting to FTP server.
Usage examples
Documentation
Connection · setup secure FTP connection.
Advanced · server certificate validation options.
Options · name the FTP connection and setup advanced error processing.
More
Tutorial
Discover
Automation Workshop includes many more awesome Triggers and numerous Actions to aid you automate any repetitive computer or business task by providing state-of-the-art GUI tools.
Automate now!
Ask for more…
If you have any questions, please do not hesitate to contact our support team.
1,282,526
We're growing fast. Thank you!
Video · Monitor an FTP server & send invoice via email
Simple,
yet efficient!
Recent news
January 7, 2020
Automation Workshop v4.0.0 introduces SFTP, FTP, Amazon S3 and WebDAV watchers. 15 new Cloud & FTP Actions. Entirely new and redesigned user experience across entire product.
March 14, 2019
Automation Workshop v3.2.0 ensure smooth For each Action execution. Also, improves Task opening speed.
January 3, 2019
Automation Workshop v3.1.0 with Windows Server 2019 support and multiple UX and UI improvements.
Automation Workshop is an awesome piece of software. It will save us thousands of man hours this year alone!—Chuck W.
Last updated: April 2, 2020
Mar 30, 2020 · 14:24

0.005
·
0.000

0.3 · 3.9