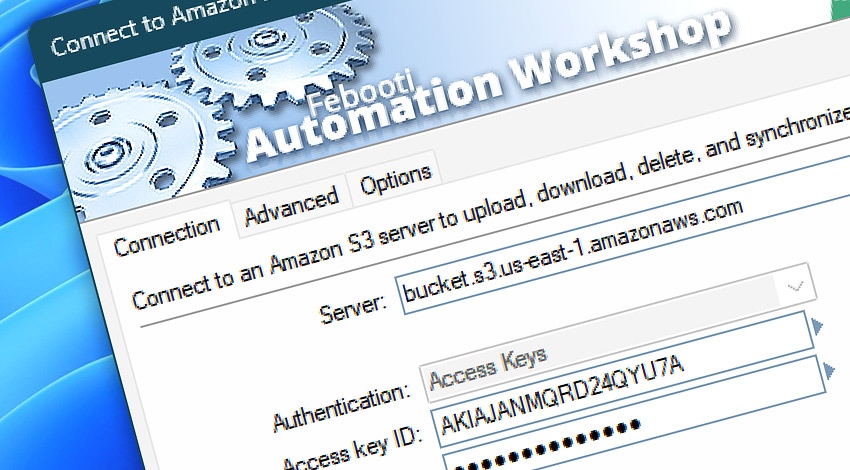 Automation Workshop includes Connect to Amazon S3 Action that establishes connection between local machine and a remote Amazon S3 server.
The Amazon S3 connection is then used to monitor for file or folder changes or to perform Cloud and FTP Actions that include options to upload, download, synchronize, list, move, rename, delete and create files and folders.
Features & highlights
Securely connect to Amazon S3 servers.
Transfer files directly into and out of Amazon S3 using the secure AWS connection.
Supports authenticating with authentication keys (Access key ID and Secret access key).
Supports server validation based on certificates signed by trusted CA certificates.
Usage examples
Documentation
Connection · setup secure Amazon S3 connection.
Advanced · server validation options.
Options · name the Amazon S3 connection and setup advanced error processing.
More
Tutorial
Discover
Automation Workshop includes many more awesome Triggers and numerous Actions to aid you automate any repetitive computer or business task by providing state-of-the-art GUI tools.
Automate now!
Ask for more…
If you have any questions, please do not hesitate to contact our support team.
1,368,762
We're growing fast. Thank you!
Video · Monitor an FTP server & send invoice via email
More powerful than you think!
Recent news
May 4, 2020
Command Line Email v7.0 introduces new TLS commands. Improved console output and debugging experience. More improvements.
April 16, 2020
Automation Workshop v4.1.1 ensures even more compatibility with various Windows Domain and network configurations.
April 2, 2020
Automation Workshop v4.1.0 introduces Action favorites and extended view mode. Many minor UX and performance improvements.
After initial setup Automation Workshop runs by itself and never fails.—Madison B.
Last updated: May 4, 2020
Sep 27, 2020 · 21:19

0.005
·
0.000

0.3 · 3.8