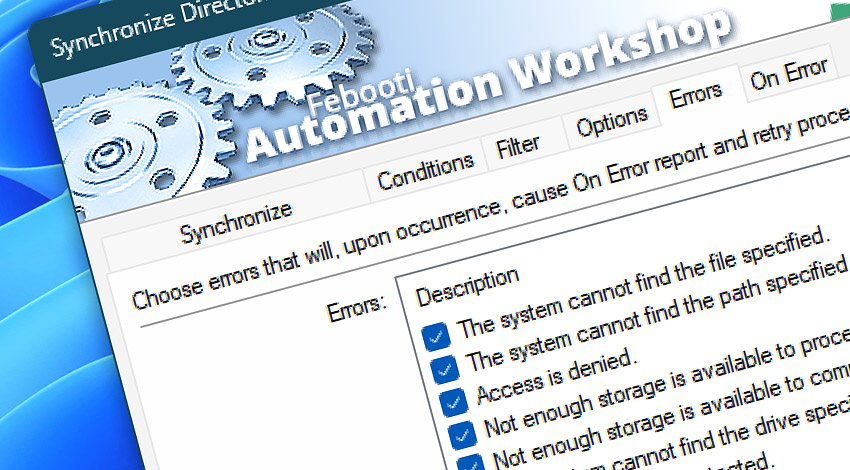 All Events of Synchronize directories Action are sorted by their type, namely, information, warning and error messages. Provided event message in real automation situation might be complemented by additional information on its cause.
Synchronize directories
Automation Workshop includes Synchronize directories Action that allows maintaining exact copies of data between local folders and remote directories. The Action can synchronize file and folder changes from local machine to remote server, from remote server to local machine or both directions.
Info events
Error events
Discover
Automation Workshop includes many more awesome Triggers and numerous Actions to aid you automate any repetitive computer or business task by providing state-of-the-art GUI tools.
Automate now!
Help at your fingertips…
If you have any questions, please do not hesitate to contact our support team.
1,286,237
We're growing fast. Thank you!
Video · Monitor an FTP server & send invoice via email
Your PC automated!
Recent news
April 2, 2020
Automation Workshop v4.1.0 introduces Action favorites and extended view mode. Many minor UX and performance improvements.
January 7, 2020
Automation Workshop v4.0.0 introduces SFTP, FTP, Amazon S3 and WebDAV watchers. 15 new Cloud & FTP Actions. Entirely new and redesigned user experience across entire product.
March 14, 2019
Automation Workshop v3.2.0 ensure smooth For each Action execution. Also, improves Task opening speed.
Automation Workshop has allowed me to move towards the goal of a completely automated computer activities. Enjoy the life!—Frank M.
Last updated: April 2, 2020
Apr 07, 2020 · 09:38

0.005
·
0.000

0.4 · 3.9