Return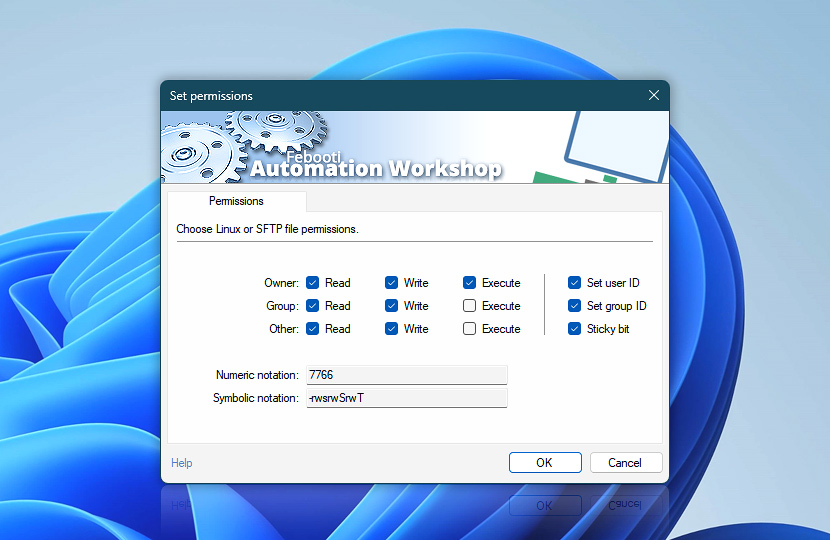 Upload file Action can also change the permissions of uploaded files. Click the necessary permissions and they will be set during upload.
Files and directories in Linux have a standard set of access permissions that control which files can be accessed by whom.
There are different set of permissions for file and directory owner, group and other users. Each set consists of read, write, and execute permissions as well as special permissions set (i.e. set user ID, set group ID and sticky bit).
Permissions
Details
Owner
Allows to set file owner permissions:

Read · access file contents and copy the file.
Write · modify and delete the file or directory.
Execute · execute the files of specific type, i.e. executables and shell scripts.

Group
Allows to set group permissions.
Other
Allows to set other (world) permissions.
Special
Allows to set additional permissions:

Set user ID
Set group ID
Sticky bit

Numeric notation
Shows Linux permissions in octal numeric format.
Symbolic notation
Shows Linux permissions in symbolic notation.
Triggers & Permissions
Actions & Permissions
Automate now!
Need assistance?
If you have any questions, please do not hesitate to contact our support team.
1,383,684
We're growing fast. Thank you!
Video · Monitor an FTP server & send invoice via email
Best
in class!
Recent news
May 4, 2020
Command Line Email v7.0 introduces new TLS commands. Improved console output and debugging experience. More improvements.
April 16, 2020
Automation Workshop v4.1.1 ensures even more compatibility with various Windows Domain and network configurations.
April 2, 2020
Automation Workshop v4.1.0 introduces Action favorites and extended view mode. Many minor UX and performance improvements.
The Automation Workshop is vital to my success. And it works!—John W.
Last updated: May 4, 2020
Oct 29, 2020 · 06:10

0.008
·
0.000

0.3 · 3.8