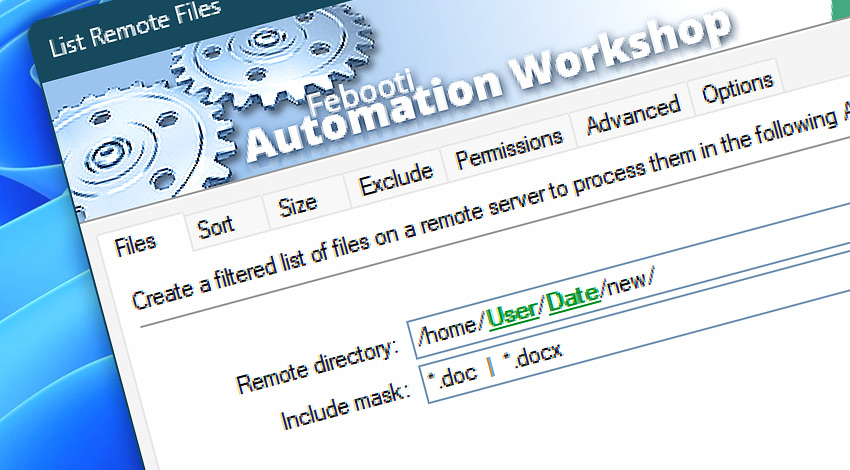 Automation Workshop includes List remote files Action, a comprehensive tool for creating filtered and preformatted lists of files and directories on a remote server. Created file and folder lists are very useful for batch processing of many files and folders in the following Actions.
Features & highlights
Create simple or advanced list of files and folders in a directory on a remote server.
Filter file list based on file name or file type.
Sort file list based on file names, extensions, path, size or modified date.
Exclude files that are smaller or bigger than certain limits.
Include files that are modified on a specific date range, e.g. before some date, after some date or between two dates.
Filter files based on owner, group or permissions.
Add a prefix or suffix to filenames to create lists that are easy to use with batch files, scripts or documents.
Documentation
More
Discover
Automation Workshop includes many more awesome Triggers and numerous Actions to aid you automate any repetitive computer or business task by providing state-of-the-art GUI tools.
Automate now!
Still have a question?
If you have any questions, please do not hesitate to contact our support team.
1,368,805
We're growing fast. Thank you!
Video · Monitor an FTP server & send invoice via email
More powerful than you think!
Recent news
May 4, 2020
Command Line Email v7.0 introduces new TLS commands. Improved console output and debugging experience. More improvements.
April 16, 2020
Automation Workshop v4.1.1 ensures even more compatibility with various Windows Domain and network configurations.
April 2, 2020
Automation Workshop v4.1.0 introduces Action favorites and extended view mode. Many minor UX and performance improvements.
Thanks for making such a magical piece of software. Why can't Febooti make all the software we use?—Jim G.
Last updated: May 4, 2020
Sep 27, 2020 · 23:27

0.005
·
0.000

0.3 · 3.8