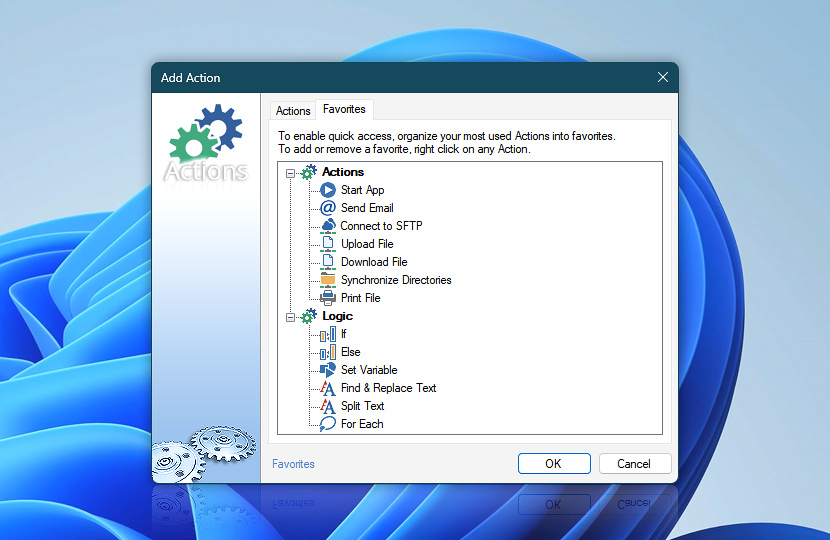 The favorites option allows to organize your most used Actions into favorites. To remove favorite, right click on any Action and choose Remove Favorite option. To add favorite, right click on any Action in Add Actions window, and choose Add to Favorites option. There is no limit on how many favorites one can have.
By organizing Actions into favorites, it is possible to significantly speed up automated task creation. It is recommended to favorite only most often used Actions, thus reducing the time needed to find a particular Action when creating a Task. Favorites act exactly the same way the regular Action's list. Each of the Windows account has individual list of favorite Actions.
Keyboard?
To add or remove favorite, use shortcut key CTRL+D. After removing every favorite, the default favorites list will be restored.
Automate now!
Ask for more…
If you have any questions, please do not hesitate to contact our support team.
1,344,301
We're growing fast. Thank you!
Video · Monitor an FTP server & send invoice via email
Admins
best choice!
Recent news
May 4, 2020
Command Line Email v7.0 introduces new TLS commands. Improved console output and debugging experience. More improvements.
April 16, 2020
Automation Workshop v4.1.1 ensures even more compatibility with various Windows Domain and network configurations.
April 2, 2020
Automation Workshop v4.1.0 introduces Action favorites and extended view mode. Many minor UX and performance improvements.
Thanks for making such a magical piece of software. Why can't Febooti make all the software we use?—Jim G.
Last updated: May 4, 2020
Aug 07, 2020 · 11:09

0.005
·
0.000

0.4 · 3.8