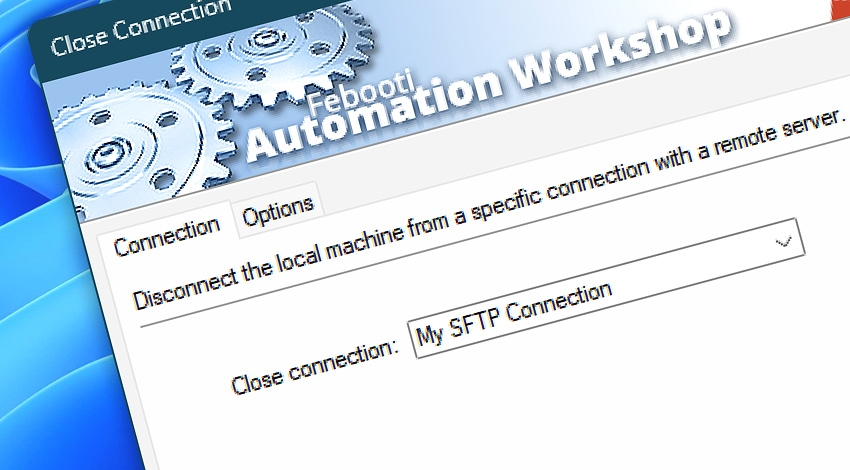 Automation Workshop includes Close connection Action that ends a specific connection between local machine and a remote server.
Features & highlights
Supports closing of both plain and encrypted connections.
Allows to disconnect and connect multiple times to the same server at various stages of a more complex Task.
Although connections to remote servers are terminated automatically when a Task finishes running, it is useful to close connection manually when connecting to many remote servers using For each or Loop Actions to provide automatic maintenance tasks for numerous remote servers.
Supports any FTP, FTPS, SFTP, Amazon S3 and WebDAV server connections.
Documentation
More
Discover
Automation Workshop includes many more awesome Triggers and numerous Actions to aid you automate any repetitive computer or business task by providing state-of-the-art GUI tools.
Automate now!
We are here to help…
If you have any questions, please do not hesitate to contact our support team.
1,369,490
We're growing fast. Thank you!
Video · Monitor an FTP server & send invoice via email
More powerful than you think!
Recent news
May 4, 2020
Command Line Email v7.0 introduces new TLS commands. Improved console output and debugging experience. More improvements.
April 16, 2020
Automation Workshop v4.1.1 ensures even more compatibility with various Windows Domain and network configurations.
April 2, 2020
Automation Workshop v4.1.0 introduces Action favorites and extended view mode. Many minor UX and performance improvements.
Automation Workshop has allowed me to move towards the goal of a completely automated computer activities. Enjoy the life!—Frank M.
Last updated: May 4, 2020
Sep 29, 2020 · 10:00

0.006
·
0.000

0.3 · 3.8