Thanks for downloading the Demo Task! It just takes a few clicks now, to import and activate the Task.
How to?
From the Automation Workshop main window choose the Import… option from the File menu.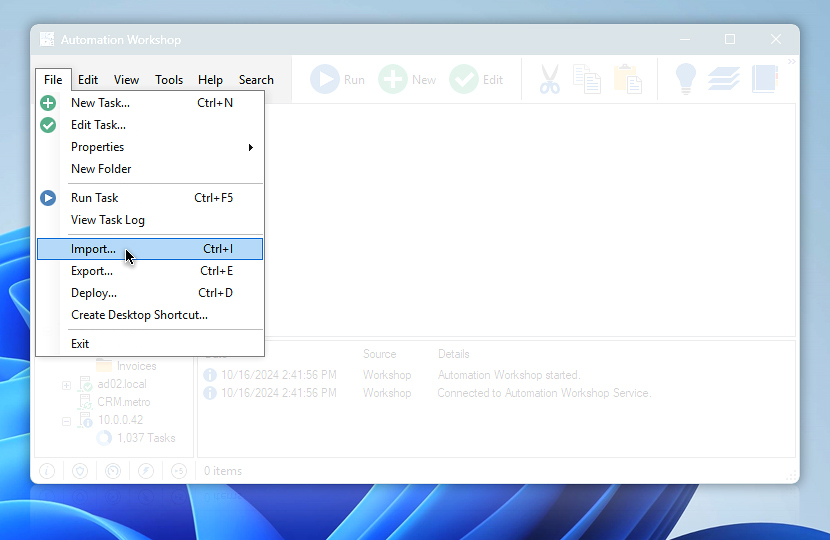 Import Task…
This will open Import a Task file browser. Now, navigate to the folder, where you have extracted downloaded demo task file. Select .task file, and click Open.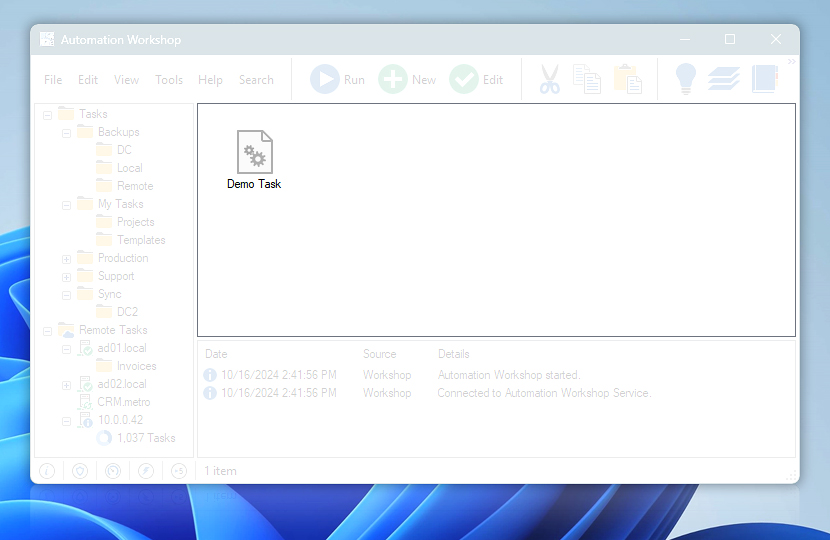 Task imported successfully…
Task successfully imported! Notice the newly imported Task in Task pane. Tasks are imported in disabled state, to prevent accidental automatic task execution · Task's state explained
Final touch…
Now it is good time to review the Task—open Task properties, review & adjust necessary Triggers and Actions. Finally, to allow automatic task execution, simply enable the Task.
Note
During the task import process, a new copy of the Task is created inside Automation Workshop. The task file in the source location can be safely deleted.
Quick tutorials
Automate now!
Still have a question?
If you have any questions, please do not hesitate to contact our support team.
1,344,303
We're growing fast. Thank you!
Video · Monitor an FTP server & send invoice via email
Admins
best choice!
Recent news
May 4, 2020
Command Line Email v7.0 introduces new TLS commands. Improved console output and debugging experience. More improvements.
April 16, 2020
Automation Workshop v4.1.1 ensures even more compatibility with various Windows Domain and network configurations.
April 2, 2020
Automation Workshop v4.1.0 introduces Action favorites and extended view mode. Many minor UX and performance improvements.
Been using Automation Workshop for a while now and find it indispensable. Job well done!—Bob G.
Last updated: May 4, 2020
Aug 07, 2020 · 11:15

0.005
·
0.000

0.4 · 3.8