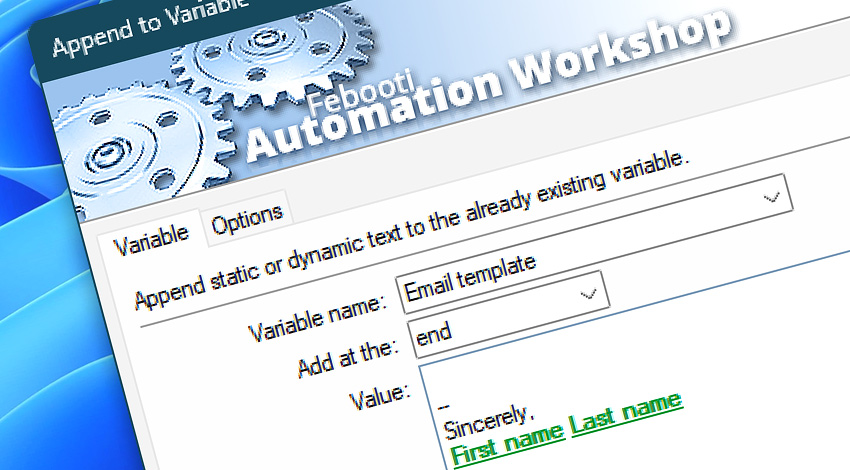 Automation Workshop includes the Append to Variable Action that enables you to append or prepend a text fragment to an existing variable. Adding a text string at the front or back of a variable doesn't require programming knowledge. It is made possible with a sophisticated and easy to use UI.
The variable can be modified multiple times during workflow execution. Later, it can be used as an input parameter by any further Action within your automated workflow.
Features & highlights
Automation Workshop offers a no-code approach to automation challenges by leveraging visual UI to create automated workflows or Tasks.
Automation Workshop variable names can contain any symbols and Unicode characters, and even spacing (in contrast to traditional programming languages).
The Append to Variable Action extends the Set Variable Action by allowing you to choose where to add a new text string.
Documentation
Variable · Choose a variable and location where to insert new text. Enter simple text or other dynamic variables to be appended or prepended to the variable.
Options · Set the Action state and custom display name, define automated error workarounds, and enable an option to log only critical errors.
Interconnect
Discover
Automation Workshop includes many more awesome Triggers and numerous Actions to aid you to automate any repetitive computer or business task by providing state-of-the-art GUI tools.
Ask for more…
If you have any questions, please do not hesitate to contact our support team.