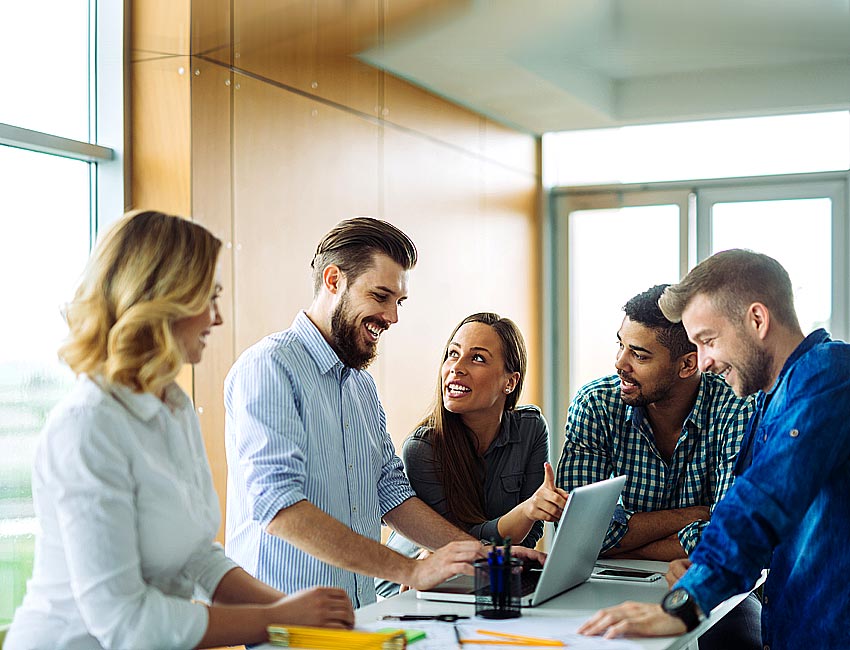 Automate Your Daily Tasks
What if we told you there is an easier way of doing repetitive tasks?
Doing repetitive tasks can be strenuous and boring. But if it's part of the work process, it has to be done. What if we told you there is an easier way of doing these repetitive tasks, without losing any data. Welcome to the world of task automation, and the preferred tool is Automation Workshop.
Automate Your Daily Tasks and Save Time
Automation Workshop will not only automate your tasks and help you save time, the tool also minimizes chances of human errors on your day-to-day tasks. You can automate FTP, automate WebDAV, and send emails automatically, among other automations that come with this automation software.
Watch a video
See how easy it is to automate a task in Windows in a quick demo! Automation Workshop is a no-code app to optimize your workflows · Explore more demo videos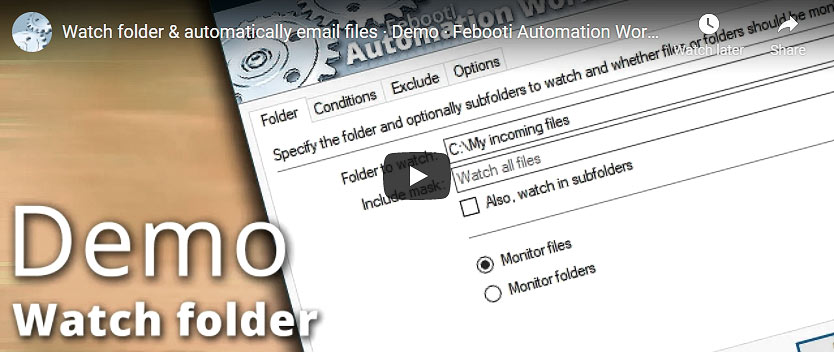 What is Automation Anyway?
We might assume that task automation is common knowledge, but we must appreciate that some people have never heard of it, yet they might need it the most. Automating your daily tasks is possible through robotic process automation, or RPA in short. RPA is a form of technology that is based on artificial intelligence or metaphorical software robots.
Automation Workshop is different from your typical RPA. Whereas RPA works by watching and recording users perform tasks before performing automation by repeating the tasks, Automation Workshop has a list of actions to automate your Windows tasks. With Automation Workshop, all you have to do is download the software and command it to perform specific tasks.

The explanation above might sound like technical jargon for the non-techies, so let's give you a simpler explanation. Task automation is simply using software to minimize manual handling of repetitive tasks. Have a list of invoices you have to send to the accounts department on specific dates and time? You can automate this task using Automation Workshop.
User Experience
Automation Workshop is designed to be used by coders and non-coders. You do not need prior coding knowledge to use this tool. Rightfully, the assumption is that anyone who performs tasks like automating FTP downloads has some coding knowledge. But if you delegate these tasks to a non-coder, they'll still perform the automation smoothly.
There are several explainer video demos for first-time users of this software. You can also go through additional resources to help you understand the inner-workings of the software and therefore make the best out of it.
Automate Tasks like FTP Upload
Efficiency is key in improving the overall productivity of a department or an enterprise as a whole. What you manually do in 8 hours can be done in half the time through a good automation tool like Automation Workshop. All you have to do is give the software the right commands to direct the right triggers.
If you're running a business, you know how it can be time consuming. Every bit of action or process needs your attention. Yet, like any other human being, you only have 24 hours a day. Automating everyday tasks is one of the easy ways of freeing up your time to attend to more demanding tasks. Some of the tasks you can automate using Automation Workshop include:
Automate FTP
Automate SFTP
Send email automatically
Automate S3 synchronization
Automate FTP upload
Automate WebDAV
Automate FTP download
Automate FTP sync
Automate FTPS
Automate file deletion on FTP server
You will be amazed at the amount of time you'll save through this automation tool. According to McKinsey, automation can free up 30% of the time spent on performing daily tasks. In addition, your organization will also improve team efficiency and productivity.

Wonder which specific tasks can be automated in a business setting? You can automate finance, lead management, administrative, human resources, and marketing tasks. Overall, about 45% of business tasks can be automated through artificial intelligence and machine learning.
An Example of How Automation Works
Let us take an example of FTP and SFTP uploads or downloads. If you have to upload specific files to a server on a daily basis, it can take you a lot of time.
Instead of manually uploading files to the server, you can automate the entire process using Automation Workshop. By automating FTP or SFTP, you can automatically transfer files between remote computers through the Internet.
Key Features of Automation
Automation Workshop is the core software product developed by Febooti, Ltd. As the company's flagship product and one of the leading automation tools, this software is able to automate multiple tasks on Windows. Key features of Automation Workshop include:
Easy to use: You do not need any programming knowledge to use this tool.
Numerous actions: Users can automatically execute multiple jobs upon task execution.
Watcher: Users can monitor folders and files that are virtually everywhere using SFTP Watcher, WebDav Watcher, Amazon S3 Watcher, File & Folder Watcher, or FTP Watcher Triggers.
Zip files: Use an advanced tool to compress, archive, or encrypt files.
Task Scheduler: Use the advanced Task Scheduler to perform Tasks on a schedule.
Mail tool: Automatically send secure emails using the mail tool.
Task Finder: You can easily find and manage Tasks through this tool.
Queue and Log Managers: Users can view all automated processes.
Command line arguments: Users can use command line arguments to automatically execute Tasks and applications.
Operations Manager: Get status and performance overview through Operations Manager.
Secure: This is a secure automation software.
Powerful: Automation Workshop is a powerful automation software that is designed with multi-core processors in mind.
These key features are some of the reasons that make Automation Workshop one of the best automation software for Windows. For example, you do not need coding, programming, or scripting skills to operate this automation software. Your non-techy staff or colleagues will be able to automate their tasks through this tool.
Secure
As a secure automation software, the emails you automatically send are secured through SSL and STARTTLS.
Automation Workshop · Email options
You can also securely monitor remote files via SFTP with SCP and SSH modes, Amazon S3 with access and secret keys, WebDAV with Plain and TLS/SSL modes, and FTP with Plain, Explicit, and Implicit modes. Your connection is enhanced by configuration of allowed server fingerprints and trusted CA certificates.
Smart and Powerful
Once you've set up your commands or triggers at Automation Workshop, you do not have to monitor every action on the tool. Whether you are logged on or off, the automated tasks continue to run in the background.
When you log in, the Operations Manager will provide you with real-time data on the active triggers, service uptime, memory use, and tasks that have been executed. In essence, you'll get confirmation that the system is running optimally.
Automation Workshop features powerful error handling options. In addition, the software has a powerful set of 40 file operations. The file operations include copying, moving, file and folder listing, deleting, renaming, retrieving, remote file download and upload, content saving, among other functions.
Multiple Functions
When you buy Automation Workshop, you're getting a full set of essential automation services in one package. You don't have to buy a separate tool for automating one thing, and another software for automating a different process.

Obviously, the software does not cover every task you'd wish to be automated—there is no software in the industry that does that. But when it comes to providing the most essential automation functions, Automation Workshop is up there with other leaders in the game.
Five Key Benefits of Using Automation
One of the reasons why you need Automation Workshop is that Windows doesn't come with its own macro recorder. This automation software can automate many tasks across the Windows operating system. You can automate FTP, SFTP, FTPS, FTP sync, S3 synchronization, WebDAV, FTP upload, FTP download, and file deletion on FTP server.
You can send emails automatically. The tool also allows you to automate your backups, monitor files and folders, and automatically zip or unzip files. These combined automation processes yield several benefits to organizations or enterprises.
1. Cutting Costs
High production costs may hinder prospects of making profits or breaking even. One of the approaches to maximizing profits is by reducing operating costs. Automation of repetitive tasks means less human resources required, and therefore less labor costs. The free time created for the personnel can be used to scale up the business, increasing prospects of more profits.
2. Increasing Productivity
Proper utilization of Automation Workshop will not only minimize production costs, but also cut down the time used for specific processes. The time saved can be used to produce more.
A comparison of manual execution of tasks and automated tasks shows that, given the same time of operation with human personnel, automation will yield more results. Furthermore, with automation, human errors are avoided. The computer can continue to run the automated tasks unattended.
As the operator, you can handle other tasks as the computer continues to run other tasks automatically. Automation Workshop therefore enables you to perform numerous tasks simultaneously.
There is no better way of utilizing employees' time while still making it possible for them to take breaks. Automation therefore can be used to increase employees' satisfaction by reducing their workload, ultimately boosting their productivity.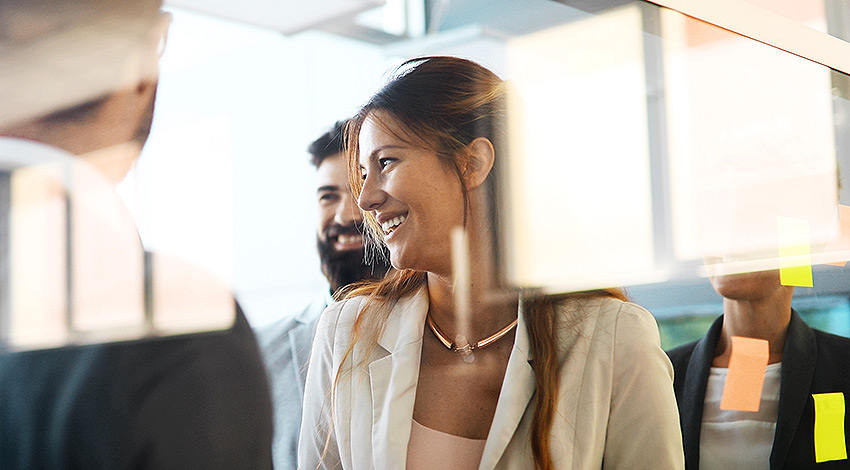 Automation softwares has the capabilities to ramp up quickly to match workload peaks or increase in orders. Any big demand spikes can be handled by the software. This means automation is one of the best approaches for firms to increase their productivity.
3. Increasing Reliability
Humans are prone to fatigue, stress at work, distractions, or other workplace obstacles that kill motivation or minimize focus. Ultimately, the output of human personnel is prone to errors, errors that can severely affect the overall performance of a business.
Computers and software give you what you feed them. And with an automation software like Automation Workshop, automated tasks will be accomplished without errors. With the superb inbuilt error handling options, Automation Workshop is your go-to automation software if you're looking for a reliable automation tool.
The cornerstone of any IT operation is reliability. Automation software guarantees you reliability. For example, you can rely on Automation Workshop to upload specific files to the server at assigned time and date.
Essentially, automation gives you a guarantee that tasks will not be forgotten, that jobs run sequentially, and that prerequisite tasks are accomplished before succeeding tasks are triggered. Automation Workshop can perform multiple complex tasks intelligently based on predefined parameters.
4. Save Time
This is an obvious benefit of automation. An automation tool will handle more tasks in less time, compared to similar workload assigned to human personnel. Furthermore, the human personnel may need additional time for breaks, correcting errors, and manually collaborating with other sections or departments.
5. Improve Efficiency
One of the key benefits of automation software is increased efficiency. Through a tool like Automation Workshop, it is easy to audit the number of tasks that have been executed within a specific period, and how they have been performed.
The data is readily available for every automated process. You can identify any unnecessary or broken workflows and modify them to produce the desired results. You'll also be in a position to make data-led decisions for your business.
Buy the Automation Software
You can order Automation Workshop online through our secure platform at Febooti. The ordering server encrypts your credit card information, your name and address.
The encryption is through a secure SSL connection. The entire purchase process is therefore 100% safe. In addition, buyers get a 30-day money-back guarantee. There are different plans to suit different business needs.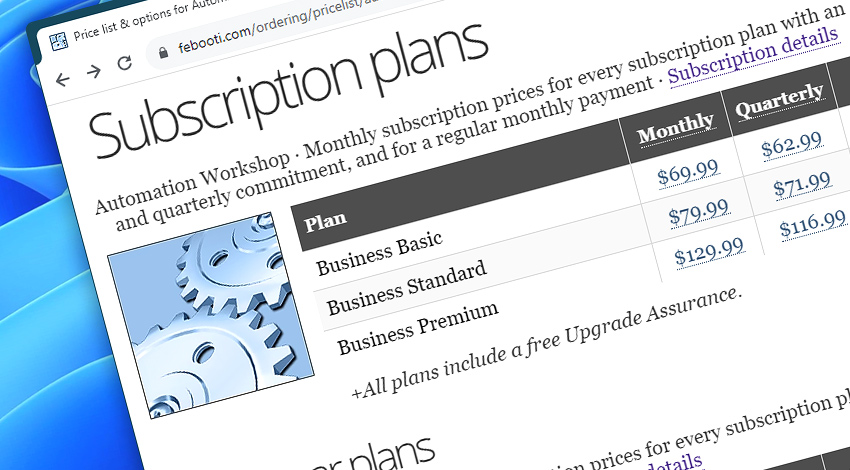 The orders are processed real-time. Once you complete the online order process, you'll get an email confirming your purchase. Delivery of the Automation Workshop software is made through Electronic Software Download—ESD.
The payment options you can use include credit card and PayPal. Febooti, Ltd accepts all major credit cards—Visa, MasterCard, American Express, Discover, Union Pay, and JCB. You can also use the following options for one-time purchases:
Purchase orders
Bank wire transfers
Amazon pay
Check or money orders
You can pay for monthly, quarterly, or annual subscriptions and have access to the latest features and fixes on Automation Workshop. You also get security updates and technical support. Subscription plans also include plans for home or personal use, plans for small and midsize businesses, and a plan for enterprises. The subscriptions for business start at $69.99: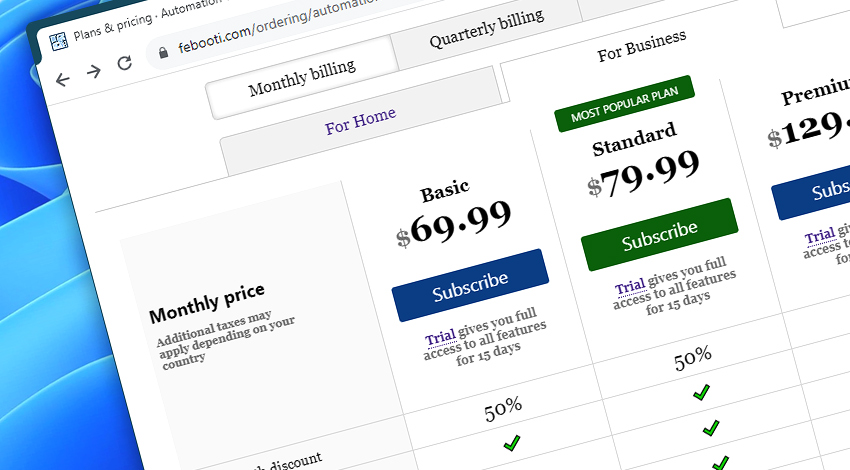 For more details on the subscriptions and determine which package best suits your business, head to our order page.
You can get a license or several licenses and fully own the automation tool. The number of licenses you need depends on your business needs. The more licenses you purchase, the greater the discounts you get from us: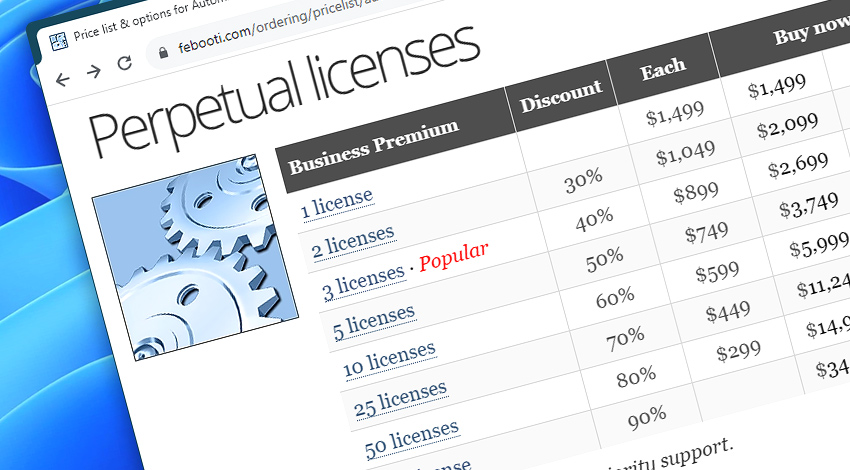 Take advantage of these discounts and get Automation Workshop licenses at cheaper rates.
Automation Workshop has a free trial. You can download the software and use the tool for a trial evaluation period before buying it. The trial period goes up to 15 days. The trial period gives you a chance to try out various applications on the tool, as well as establish if Automation Workshop is compatible with your hardware, system, and other programs in your company.
There is a free edition of Automation Workshop. This free version works on all modern 32-bit and 64-bit Microsoft Windows versions.
Have any questions or need clarification on something you're not sure about? Feel free to contact us anytime. Emails:
support

.anti

@

spam.

febooti.

nospam.

com

sales

.anti

@

spam.

febooti.

nospam.

com
Awesome
Jump in
Automate now!
Universally available
Advanced job scheduler—Automation Workshop works flawlessly on all modern 32-bit and 64-bit Microsoft Windows versions: Windows 8 & 8.1 · Windows 10 · Windows 11 · Server 2012 & 2012 R2 · Server 2016 · Server 2019 · Server 2022