Febooti Command Line Email is a powerful but easy to use email-sending utility that supports all basic and advanced email client's sending capabilities · Quick start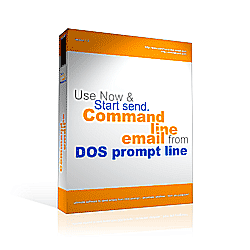 Command Line Email
The email client allows sending mail directly from Windows command line (DOS prompt). Attach an unlimited number of files to emails, use rich formatted HTML or simple text email, and use CC or BCC, all over a secure SSL connection. Use febootimail in Scheduled Tasks, CGI scripts, and VBA, from virtually any software.
Corporate users can authenticate against the Microsoft Active Directory and send mail via Exchange Server, while others can use mail server authentication secured with industry-standard SSL data encryption, such as Gmail. Febootimail also supports STARTTLS secure communication and most of the other authentication methods, including LOGIN, PLAIN, NTLM, and CRAM-MD5.
febootimail -FROM console@example.com -TO script@example.com -SUBJECT Email from CMD! -TEXT Email message sent from cmd using febootimail. This is super simple and easy! -AUTH AUTO -USER ted -PASS 8gF2GH#5gJ!4ad -SMTP mail.example.com -SSL
Secure
SSL (Secure Socket Layer) and STARTTLS provide maximum security by encrypting communication sessions between the Command Line Email client and SMTP server, including Gmail, Exchange Server, and Lotus Notes.
Multiple AUTH methods—NTLM, and CRAM-MD5 authentication methods are added to basic PLAIN and LOGIN, as well as awesome automatic authentication method detection.
Intensive, extended debugging and testing have led to a significant number of improvements and bugfixes, making Command Line Email even more stable, fast, and efficient.
Awesome
Send mail with an unlimited number of attachments, including advanced file masks.
Send emails using any text encoding / character set (e.g., Unicode, UTF-8, UTF-16).
Send email from the DOS command line to any number of recipients, including CC and BCC.
Use automatic SMTP mail server authentication or set it manually (AUTH PLAIN, LOGIN, NTLM, CRAM-MD5).
Send emails using plain text or HTML-formatted messages with embedded pictures.
There is an option to request email read and email received confirmation.
Improved speed—Command Line Email has been optimized for even better email-sending efficiency.
Advanced
Substitute any or all parameters from multiple plain or Unicode text and configuration files (USEFILE and CONFIG).
Support for batch script return codes allows checking success or failure from the environment variable errorlevel.
Use email from Scheduled Tasks or any software that executes external commands or CGI scripts, such as ASP or PHP.
Read and write standard .eml files.
Simple
Support for friendly names in all fields, such as TO and FROM (i.e., the name appears in the TO field instead of the email address).
Set the outgoing SMTP server address and SMTP server port. Use URL mail.example.com or IP address 10.25.125.88.
Automatically convert text-based emoticons to emojis, for example:
the text I love =)<3 email results in I love 🙂❤️ email after the conversion.
Optional reply-to email address and reply-to friendly name.
Send simple text or MIME-encoded emails.
More…
Set alternate text for email programs that do not support HTML-formatted messages.
Active Directory support for MSI deployments.
Checks for latest-version updates automatically (optional).
Want a CMD email?
Universally available
Command Line Email works perfectly on all modern 32-bit and 64-bit Microsoft Windows versions: Windows 10 · Windows 11 · Server 2012 & 2012 R2 · Server 2016 · Server 2019 · Server 2022. Older Windows versions (such as Windows 8 and Server 2008) are not "officially" supported but should still work remarkably well. The underlying architecture of Windows is evolving and our apps are crafted to be backward and forward compatible.