Monitor folders · Automation Workshop includes File & Folder Watcher that is an advanced file and folder monitor. It is capable of detecting a range of changes in the contents of the specified folder.
File Watcher screenshot demonstrates how easy it is to monitor folder contents. Just specify the folder to monitor, whether to monitor folders or files in its subfolders. Many options in the Exclude, Conditions and Options tabs allow to narrow down the specification of files, thus making folder monitor to focus on exactly the changes necessary in particular context.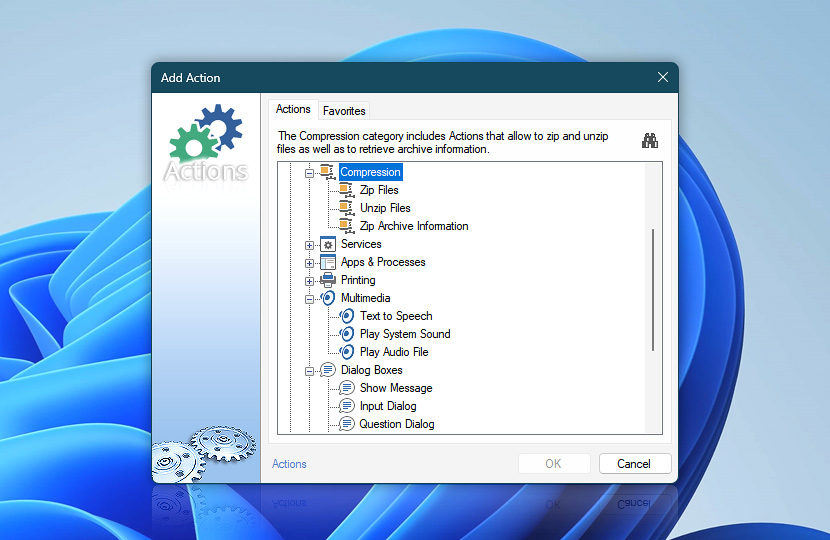 One or multiple Actions can be performed after the folder monitor detects the specified changes, making scriptless automation solutions efficient to use and easy to deploy. Such Actions include—Zip and Unzip Files, Show Message, Play sounds, and more…
More Watchers…
Universally available
Advanced job scheduler—Automation Workshop works flawlessly on all modern 32-bit and 64-bit Microsoft Windows versions: Windows 10 · Windows 11 · Server 2012 & 2012 R2 · Server 2016 · Server 2019 · Server 2022.
Older Windows versions (such as Windows 8 and Server 2008) are not "officially" supported but should still work remarkably well. The underlying architecture of Windows is evolving and our apps are crafted to be backward and forward compatible.