Return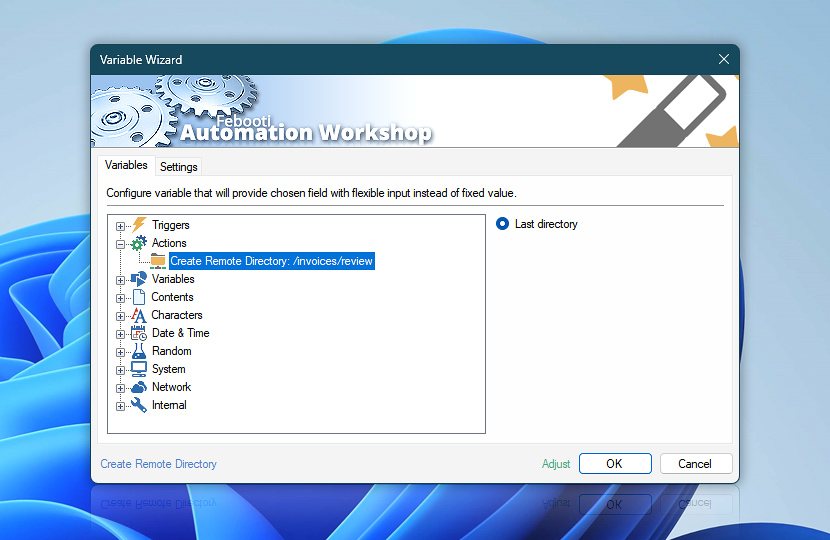 The Create remote directory Action can create a directory on a remote server.
After the Create remote directory Action is completed, the information on its operations is temporarily stored in dynamic variables that can be retrieved by any other Action within the same Task via Variable Wizard. For example, these variables can be saved as text by Write to File Action, emailed to admin by Send Email Action or used as dynamic parameters in other Actions.
| Variable | Details |
| --- | --- |
| Last directory | Returns the path and name of last created directory. |
| Action completion status | Indicates whether the Action has completed successfully or failed. Possible values are Successful or Failed. Or Empty, if Action has not been executed yet. |
Automate now!
Have a question?
If you have any questions, please do not hesitate to contact our support team.
1,368,787
We're growing fast. Thank you!
Video · Monitor an FTP server & send invoice via email
Awesome in automation!
Recent news
May 4, 2020
Command Line Email v7.0 introduces new TLS commands. Improved console output and debugging experience. More improvements.
April 16, 2020
Automation Workshop v4.1.1 ensures even more compatibility with various Windows Domain and network configurations.
April 2, 2020
Automation Workshop v4.1.0 introduces Action favorites and extended view mode. Many minor UX and performance improvements.
Automation Workshop is an awesome piece of software—love the intuitiveness, flexibility and simplicity.—Howard C.
Last updated: May 4, 2020
Sep 27, 2020 · 22:33

0.005
·
0.000

0.3 · 3.8