Return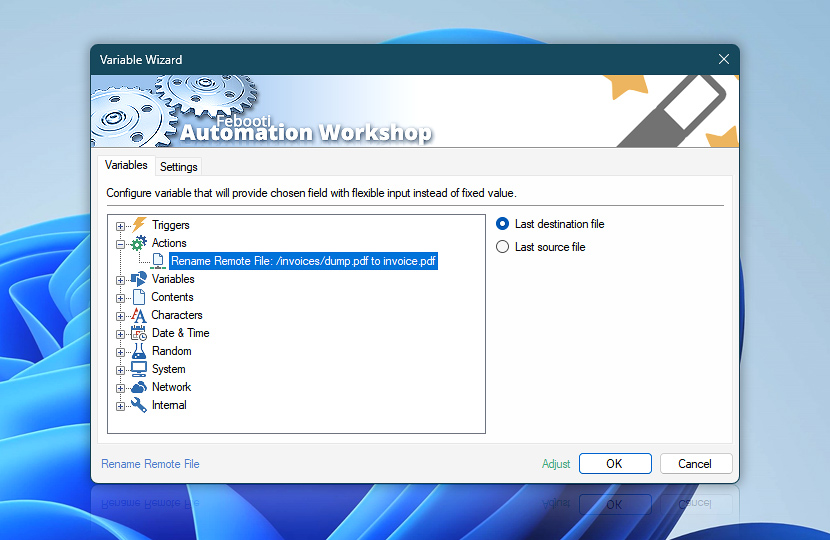 The Rename remote file Action can rename a file in a remote directory without downloading it to local machine.
After the Rename remote file Action is completed, the information on its operations is temporarily stored in dynamic variables that can be retrieved by any other Action within the same Task via Variable Wizard. For example, these variables can be saved as text by Write to File Action, emailed to admin by Send Email Action or used as dynamic parameters in other Actions.
| Variable | Details |
| --- | --- |
| Last destination file | Returns the full path and new name of the renamed file. |
| Last source file | Returns the full path and former name of the renamed file. |
| Action completion status | Indicates whether the Action has completed successfully or failed. Possible values are Successful or Failed. Or Empty, if Action has not been executed yet. |
Automate now!
Still have a question?
If you have any questions, please do not hesitate to contact our support team.
1,286,232
We're growing fast. Thank you!
Video · Monitor an FTP server & send invoice via email
More powerful than you think!
Recent news
April 2, 2020
Automation Workshop v4.1.0 introduces Action favorites and extended view mode. Many minor UX and performance improvements.
January 7, 2020
Automation Workshop v4.0.0 introduces SFTP, FTP, Amazon S3 and WebDAV watchers. 15 new Cloud & FTP Actions. Entirely new and redesigned user experience across entire product.
March 14, 2019
Automation Workshop v3.2.0 ensure smooth For each Action execution. Also, improves Task opening speed.
Automation Workshop is the most friendly automation solution I've tried.—Jayden C.
Last updated: April 2, 2020
Apr 07, 2020 · 09:24

0.005
·
0.000

0.4 · 3.9