Log Pane displays information, warning, and error messages in chronological order for recent Automation Workshop events. Each type of message is depicted by different icon, event source is listed and some details provided. For more details, user can open Event Details window by double clicking the event or choosing its properties from context menu.
By default each Task shows all events in the Log Pane irrespective of its Log properties (properties for logging events into log files). However, the user can choose the level of information displayed in Log Pane for each Task. Available settings for Display in Log Pane are show everything, important or nothing.
| Columns | Details |
| --- | --- |
| Date | Displays date and time of the event. |
| Source | Displays whether event is caused by Automation Workshop interface, System Service, or remote AW instance. |
| Details | Provides a short description of Event details. Double click, to open Event Details. |
Event details…
The Event details window shows in-depth information about one particular event. The Event ID uniquely identifies the Info, Warning, or Error Event. Date and time is shown in the machine's local time zone. The Event Source can be the local Service, remote Service, or Automation Workshop Manager. The description field contains additional error codes besides information that is displayed in the Automation Workshop Log Pane.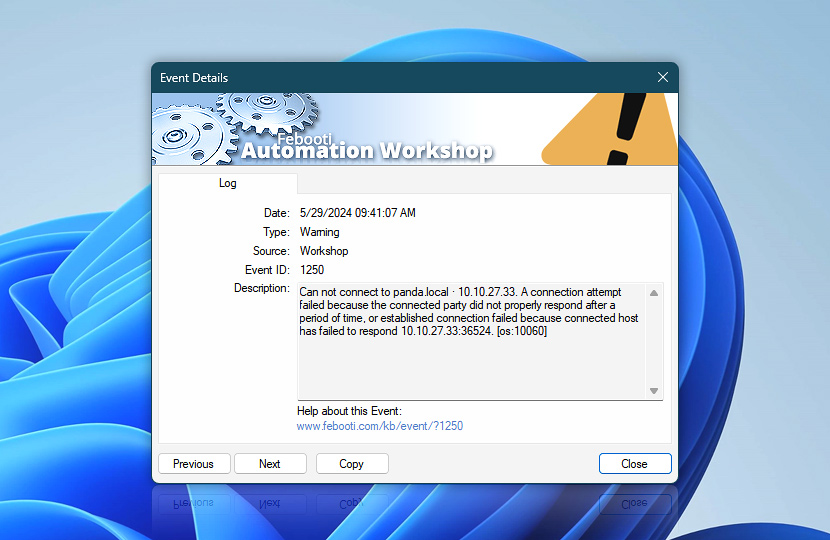 Event details
Use the Previous or Next buttons to navigate the events forward or backward. The help link brings you to the online knowledge base. It is also possible to copy all the details to Clipboard.
Need assistance?
If you have any questions, please do not hesitate to contact our support team.