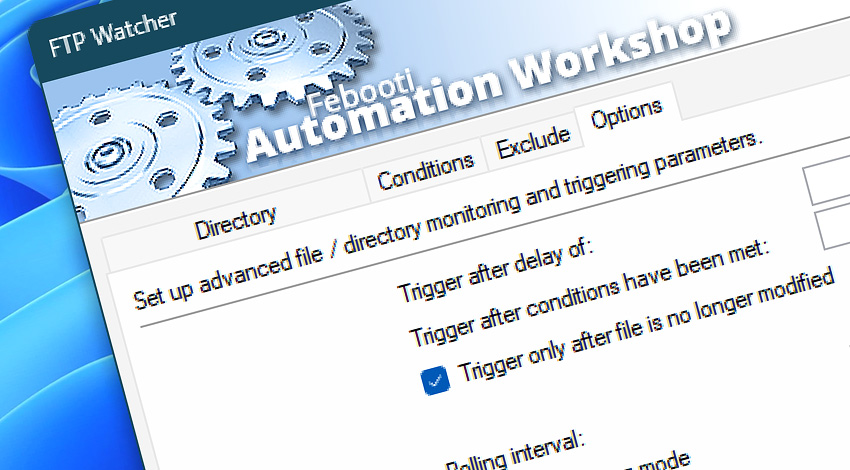 All Events of FTP watcher Trigger are sorted by their type, namely, information, warning and error messages. Provided event message in real automation situation might be complemented by additional information on its cause.
FTP watcher
Automation Workshop includes FTP watcher Trigger that monitors for changes in files and folders in a specified directory on a remote FTP server. Smart controls like file masks, conditions and filters allow to detect the necessary changes.
Info events
Error events
Discover
Automation Workshop includes many more awesome Triggers and numerous Actions to aid you automate any repetitive computer or business task by providing state-of-the-art GUI tools.
Automate now!
Need assistance?
If you have any questions, please do not hesitate to contact our support team.
1,368,778
We're growing fast. Thank you!
Video · Monitor an FTP server & send invoice via email
Your PC automated!
Recent news
May 4, 2020
Command Line Email v7.0 introduces new TLS commands. Improved console output and debugging experience. More improvements.
April 16, 2020
Automation Workshop v4.1.1 ensures even more compatibility with various Windows Domain and network configurations.
April 2, 2020
Automation Workshop v4.1.0 introduces Action favorites and extended view mode. Many minor UX and performance improvements.
Automation Workshop has saved me over an hour each day. That's literally extending my life.—Richard J.
Last updated: May 4, 2020
Sep 27, 2020 · 22:05

0.005
·
0.000

0.3 · 3.8