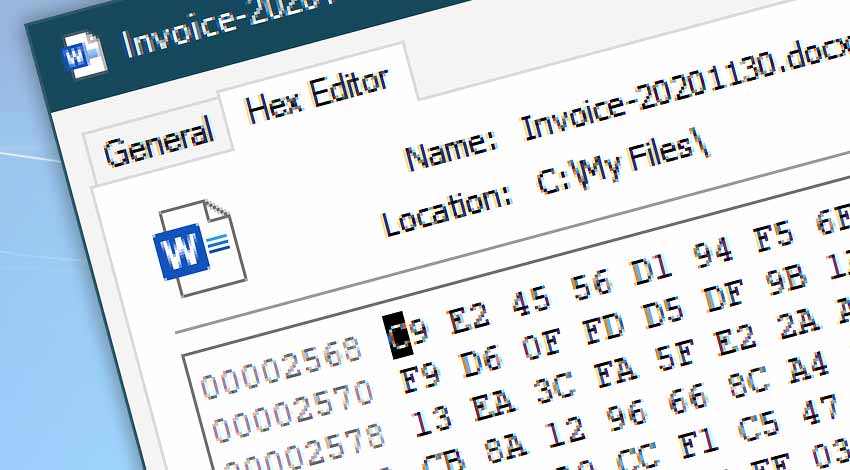 Simple freeware utility that allows to modify file binary content in both hexadecimal and ASCII modes. Fully integrated into Windows property pages, with full support for copy & paste, bookmarks, context menus, text search, shortcuts, and more.
Freeware HEX editor
Hex editor allows to edit regions of file without affecting the layout of file or prevent "content shifting", thus giving a perfect control over data.
Hex editor allows to view and edit files, search for particular content or address in the file, to replace any data, copy in variety of data formats and more. It has intuitive user interface, and is suitable for all HEX and ASCII editing needs. Multiple editors can be used, by opening multiple file Property windows.
Simple
Standard commands—cut, copy, paste, delete.
Extended commands—find, find next, copy as.
Search both within HEX and ASCII content.
Both insert and overwrite editing modes.
Go to any HEX address instantly.
Awesome
Effortlessly edit files sized up to 2GB.
Be productive with keyboard shortcuts for all Hex editor functions.
Right click mouse context menu to access all features.
Completely free—including personal and commercial use. No restrictions.
Download now
Help & feedback
What do you think about Hex editor? Good? Bad? Give us feedback!
Need help? If you have any questions, please do not hesitate to contact our support team.
1,370,392
We're growing fast. Thank you!
Video · Monitor an FTP server & send invoice via email
Your PC automated!
Recent news
May 4, 2020
Command Line Email v7.0 introduces new TLS commands. Improved console output and debugging experience. More improvements.
April 16, 2020
Automation Workshop v4.1.1 ensures even more compatibility with various Windows Domain and network configurations.
April 2, 2020
Automation Workshop v4.1.0 introduces Action favorites and extended view mode. Many minor UX and performance improvements.
The Automation Workshop is vital to my success. And it works!—John W.
Last updated: May 4, 2020
Oct 01, 2020 · 07:32

0.004
·
0.000

0.3 · 3.8