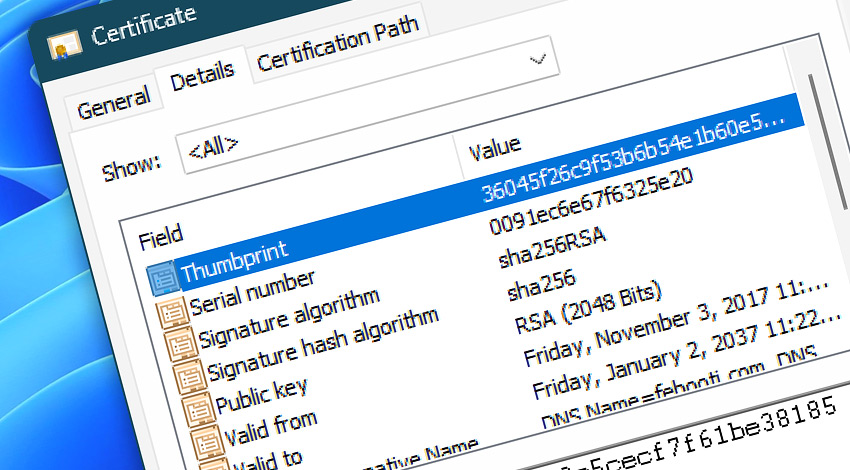 To securely connect to FTP, FTPS or WebDAV servers, Automation Workshop verifies the server certificate. If the server certificate is not signed with a CA (central authority) certificate, the user can choose to trust any server certificate (which is relatively safe in secured LANs) or to manually enter the fingerprint of the server certificate.
Overview
It is possible to specify multiple comma, semicolon or pipe-separated fingerprints. To seamlessly transition from an old server to a new server user can specify fingerprints of both old and new servers. Multiple fingerprints are useful for systems with load balancing when connection is made to different servers.
Get fingerprint
The easiest and safest way to retrieve a certificate fingerprint is to open the certificate file on a server and see thumbprint value in the Details tab. When connecting with browser to check the certificate fingerprint, ensure that the trusted connection is used to prevent the possibility of man-in-the-middle attack.
Certificate thumbprint can be returned in various formats—as a continuous string, space-separated string or a colon-separated string. Automation Workshop supports colon-separated thumbprints, so other formats should be converted to SHA1 format like:
f3:02:0b:31:8b:1d:85:bb:7b:5d:a3:6e:ff:50:f9:df:b4:47:31:7b
Actions & fingerprints
More fingerprints
Automate now!
Need assistance?
If you have any questions, please do not hesitate to contact our support team.
1,370,434
We're growing fast. Thank you!
Video · Monitor an FTP server & send invoice via email
Your PC automated!
Recent news
May 4, 2020
Command Line Email v7.0 introduces new TLS commands. Improved console output and debugging experience. More improvements.
April 16, 2020
Automation Workshop v4.1.1 ensures even more compatibility with various Windows Domain and network configurations.
April 2, 2020
Automation Workshop v4.1.0 introduces Action favorites and extended view mode. Many minor UX and performance improvements.
Automation Workshop has allowed me to move towards the goal of a completely automated computer activities. Enjoy the life!—Frank M.
Last updated: May 4, 2020
Oct 01, 2020 · 09:39

0.005
·
0.000

0.3 · 3.8