Commercial users are offered huge volume discounts for purchasing Command line email multi-user licenses. When purchasing multiple licenses, the volume discount also applies to upgrade assurance prices · Pricing calculator
Command line email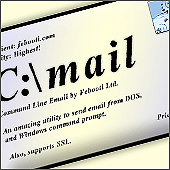 +Includes 1 year free Basic support.
Upgrade Assurance
Upgrade Assurance provides free Command line email upgrades for purchased period of time.
Prices given below are for 1 user license. When purchasing multiple licenses, the volume discount also applies to upgrade assurance prices. In addition to fixed time upgrade assurance, ongoing subscriptions are available with recurrence periods of 3 months and 1 year.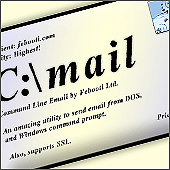 | Plan | Discount | Per year | Price |
| --- | --- | --- | --- |
| 1 year Upgrade Assurance | | $19 | $19 |
| 2 year Upgrade Assurance | 30% | $15 | $29 |
| 3 year Upgrade Assurance | 40% | $13 | $39 |
+Automatically applies an additional multi-volume discount.
License types
The term "Computer" as used herein shall mean the Hardware and / or Software which provides a separate workspace. Many virtual machines running on a single Hardware are considered to be multiple Computers. Virtual machines with redundant run-time copy such as Fault Tolerance, and backup copies that are passive (does not execute) and are not running, are considered as one Computer.
Personal use license
The SOFTWARE PRODUCT may be used on a single computer for non-profit purposes. Personal use license can be purchased by either home users or accredited educational institutions · Order page
Commercial license
The SOFTWARE PRODUCT may be used in commercial environment or any other environment on a number of computers specified by license type. Commercial license is provided for all kinds of companies, government institutions and other entities not entitled for personal use license. Types of Commercial licenses:
Single-user license · The SOFTWARE PRODUCT may be installed and used only on one computer.
Multi-user license · The SOFTWARE PRODUCT may be installed and used on, at most, the number of computers (belonging to a single company) specified by the License.
Site license · The SOFTWARE PRODUCT may be installed and used on any / all computers located at a company site and within 62 mile (100 kilometer) radius around it.
Note
More detailed license text is included in product package. See license.txt.
Have a question?
If you have any questions, please do not hesitate to contact our sales team.
1,252,244
We're growing fast. Thank you!
Automate awesome!
Recent news
January 7, 2020
Automation Workshop v4.0.0 introduces SFTP, FTP, Amazon S3 and WebDAV watchers. 15 new Cloud & FTP Actions. Entirely new and redesigned user experience across entire product.
March 14, 2019
Automation Workshop v3.2.0 ensure smooth For each Action execution. Also, improves Task opening speed.
January 3, 2019
Automation Workshop v3.1.0 with Windows Server 2019 support and multiple UX and UI improvements.
I love the Automation Workshop. Simple, clean and very functional.—Sean W.
Last updated: January 7, 2020
Jan 26, 2020 · 21:35

0.004
·
0.000

0.3 · 3.9